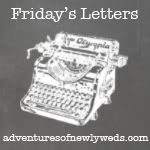 Dear Chinese food
: I think not being allowed to eat you while pregnant made you tastier! Lunch was delicious!
Dear TV Gods
: THANK YOU for putting Michael Strahan on Live! with Kelly. I just love him!
Dear Poppy
: You rock. You look a little wonky, but we're hoping you grow out of that (like Scarlett did!) Your sleep schedule and patience to put up with your big sister's "love" make my life happier. Let's keep this up...you're making Scarjo look bad! ;)
Dear Post-baby body
: Please, let's just get this over with and heal already! How am I supposed to have the skinnies when everything on me still hurts.
SO
making baby 3 a distant possibility!
Dear Pumpkinhead
: You are delicious. You even give pumpkin spice lattes some competition for being my favorite Fall drink. YUM!
Dear Scarjo
: Thank you for rocking out this whole "big sister" thing! It was rough at first, but I blame our schedule change the most. (and the fact that your "Da" was in charge of you...) Your independence is awesome...even if I get a little sad that you're getting so big!
Dear Black Friday shoppers
: You are all crazy! Mary and I braved the crowds last year at 10am with toddlers and there were
still
elbows thrown! That being said, I'm a
smidge
jealous that I will miss the excitement; when my babies are older, I'm
so
there! For now, I'm content to sit here in my jammies with my sleeping baby and hot coffee!