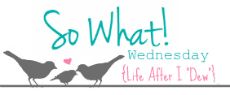 I parked too close to the pole at the end of the gas pump and couldn't get out of the jeep due to my ginormous belly! Yeah, that happened...and in front of tons of other people. Awesome.
I have a name for baby 2 and I thought of it awhile ago, but thought there was no way I could get away with it. It means that I have absolutely turned into my mother. Scary thought! But then my mom mentioned it and everyone liked it, so I'm pretty sure were going with it. I am my mother. Officially.
It's 90 degrees and sunny and I'm inside blogging. I need to get it together and get outside asap!
Scarlett knows the name of too many Sesame Street characters. I swore to myself that there would be NO TELEVISION in her life. Ever. And then I discovered what I could get done during an hour of Sesame Street. Hair? Done. Make-up? Done. Switch loads of laundry, babyless? Absolutely!
Some of the time, I'm angry with baby 2 for stealing away my future alone time with Scarlett. I feel like a horrible mother for this. I'm planning on this angry-ness leaving soon...or as soon as baby 2 arrives!
I bought In-Touch Magazine because Teen Mom's Catelynn and Tyler were on the cover announcing their pregnancy...and totally bought the new Justin Bieber CD (I felt like such a dirty old lady; especially when I pulled out the poster of the Biebs!!!) Secrets!
We're watching Dallas to get the back story because the new Dallas looks interesting...! So far, so good! Turns out, Dallas was on for 13 years. This is going to take a while...!
I read new blogs that have the most fun names first. Or I look for blogs who have babies around the same age as mine! Then I wonder what I'm missing; I love finding new fun blogs!
Scarlett has never left Maine...I think it's time for a road trip!!!