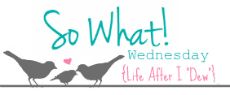 This week I'm saying So What! to:
The fact that I started this post on MONDAY. I always forget, so I wanted to be on my game!
I love to hate the Kardashians. I obviously watch KUWTK, all editions, buuttt Kim is just so freakin' annoying. She was on Kelly! Live and always brought the conversation back to herself...kind of like Kelly! Ok, why do I watch this show?!?!
I exercise to be able to drink coffee with cream. 1200 is just too little to waste 168 on coffee because then I'll just starve!
Cat-eye liner just doesn't look pretty on me. No matter how hard I try to get it right, it looks strange.
Adding on to #4, I have watched three, THREE tutorials on how to master the cat-eye liner look! Shameful.
Scarlett was showing no interest in not snuggling with me all night, so we just moved her twin bed into our bedroom right next to our bed. I will even admit that I love having her right next to me all night!
I want to take 100 bajillion pictures everywhere, but I get too embarrassed to whip out my camera. Super-ridiculous, I know.
I was late to the skinny jeans trend, so the second I saw super-flare jeans in a magazine, I jumped on that bandwagon! I'm such a dork and a little bummed that I have yet to see another person wearing that style of jeans...I blame the fact that I live in Maine!
I definitely want more babies, but the thought of giving up my free time while Scarlett sleeps gives me heart palpitations.
Our family has had two photoshoots so far just to try to get a nice photo of all four little ones together...let's hope that yesterday's shoot comes out better than the previous two!
Scott is my favorite Kardashian!
I never know what day it is. Ever. I always have to really think about what has been going on to figure out what day it is. That should tell you how exciting my social life really is!