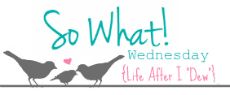 This week I'm saying So What if...
I paid for a pound of $9 turkey, so that I could ask for a cookie for Scarlett while grocery shopping, without feeling embarrassed! They keep the cookies in the deli, not the bakery. How strange is that?!
Scarlett and I went grocery shopping, walked outside and ran into my mom & Alyssa in the parking lot. Then we proceeded to go grocery shopping again with them. I think our total time spent at Hannaford was 2 hours!
I've been spending my free time filling out Scarlett's baby book. I figure that I better get that finished before I have to start another one...!
When I see people smoking in nice cars, it totally irritates me! They're ruining the fancy with their yucky smoke!!!!
I went to the playground wearing a summer dress. Embarrassing! In my defense, I was only planning on a coffee-run, but the empty playground was calling to me, so I had to let Scarlett get out and run around!
I am SO BUMMED that the Today Show replaced Ann Curry with Savannah Guthrie. Ann rocks and Savannah is soooo annoying to me!!! I'm thinking of tuning into GMA from now on in protest. How BA am I?! ;)
Kourtney Kardashian named her baby girl Penelope Scotland. I mean, Dash as Mason's middle name is cute and the name of their store and definitely in honor of Kourtney, but Scotland??? That just sounds ridiculous. (Maybe my "So what if..." should be the fact that I dissected the naming of a Kardashian!)
I have a name for baby 2, but I'm still looking just in case there are better options. I'm not ready to settle 100%.