Ordered 5 minutes ago from Shutterfly! (Um, they have crazy amazing deals!!!) Rocks my world!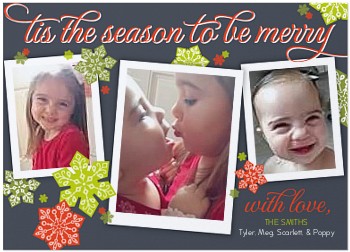 And we have Winston's cute face on the back! It'll be the first time that anyone has really learned of his addition to our family, so that will be interesting!

I'm later than usual ordering these...not sure how Christmas is almost here already!

These pictures were my three favorites from the 41 acceptable pictures taken on my iphone! All together, I took over 200, so yeah . . . that should tell you how successful I was. Thank goodness for pop bribes!!! They worked! (Although they were in half the photos rendering them useless! Shoot.)

Next year, it might be time to consider using a professional photographer!